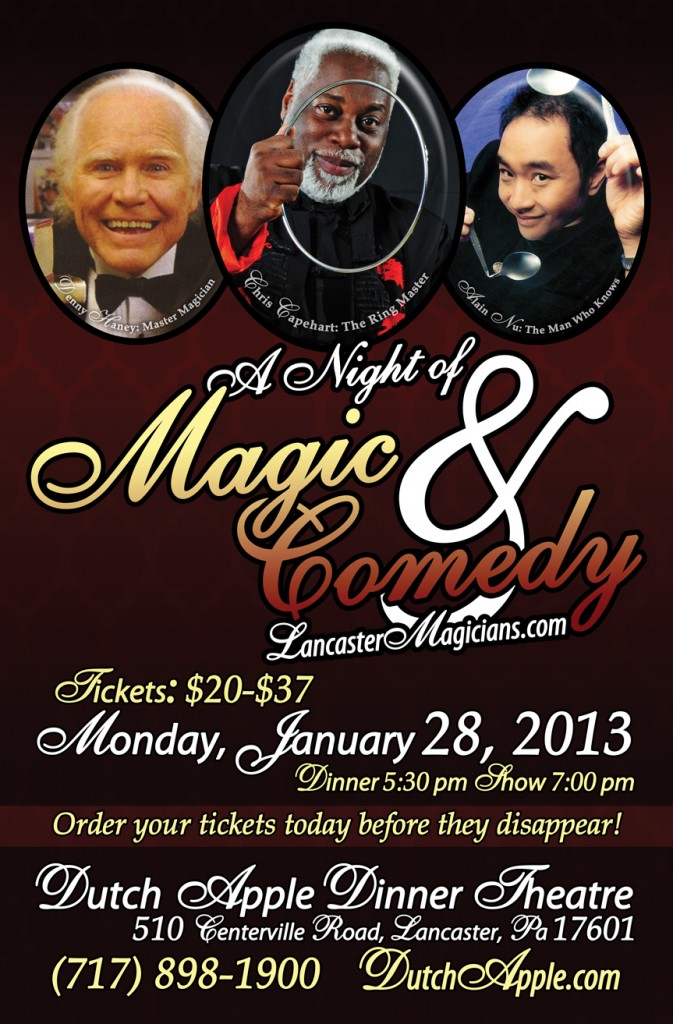 A great evening of family fun and laughter that will warm your heart.
Chris Capehart is the headliner for the evening this year. Chris Capehart has been dubbed "The Ring Master" and for good reasons. The three-ring routine is one of the cornerstones of magical illusions. Chris's three-ring routine, which he perfected in 1981, has been acclaimed by some of the world's most renowned magicians as "the best of the best."
Chris has since performed in Atlantic City, Las Vegas, New York, Philadelphia, Hollywood, Chicago, Denver and numerous other cities. He has also traveled to England to perform at The Blackpool Magic Convention and was also invited to perform at the Magic Circle Christmas Show in London.
Also performing at A Night of Magic is Denny Haney. From the jungles of Vietnam to the famed Magic Castle in Hollywood, Denny has been entertaining audiences' around the world for over forty years.
Recently, at the 2011 Society of American Magicians Convention, Denny was awarded the coveted Milbourne Christopher Foundation "Masters" Award and is one of magic's most respected magicians today. Denny Haney is A True Master Magician.
And last but not least is Alain Nu "The Man Who Knows". Star of the TLC Network television specials, "The Mysterious World of Alain Nu", and the author of the Amazon #1 Hot New Release "Picture Your ESP!" this unprecedented man of mystery has entertained audiences worldwide with his amazing demonstrations that blur the line between science and the mysteries of unexplained phenomena.
Click Here to order tickets online or call 717-898-1900 to speak to a salesperson.